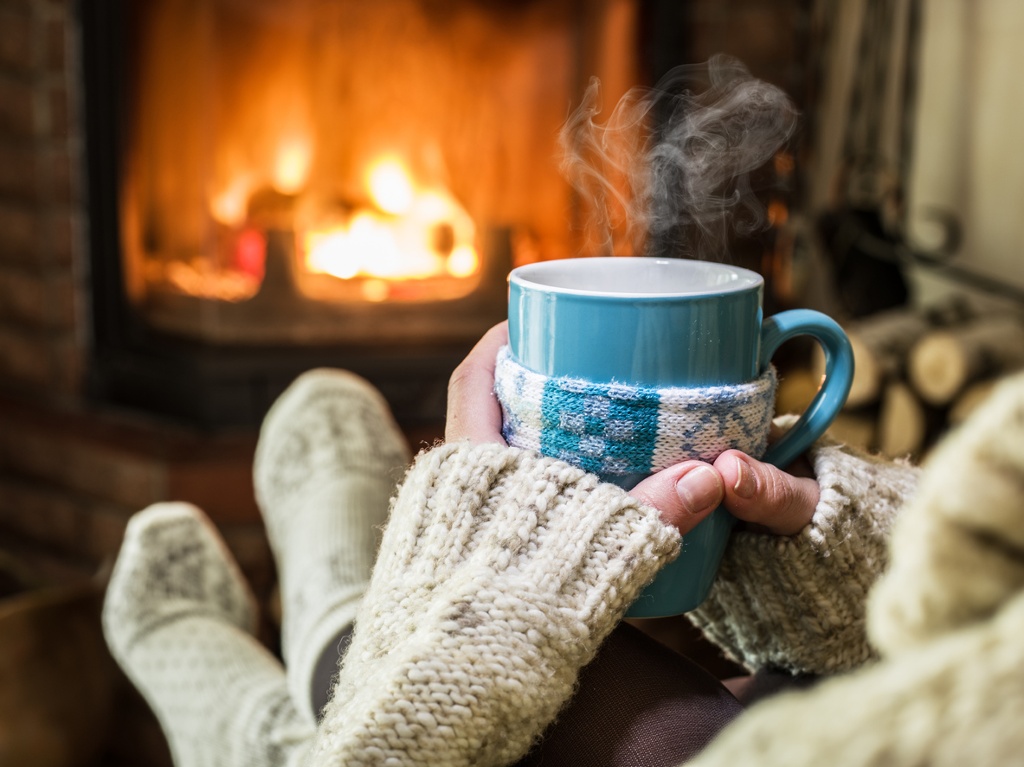 It's no secret that property sales tend to slow down in the winter months. Generally speaking, people feel more settled and less motivated to uproot their lives when the long evenings take hold. But something that's not so well-known: while people selling their homes in winter might have fewer viewings, they also report that these viewers are often serious buyers with more intention of placing an offer.
As fewer properties go on the market over the winter period, sellers tend to enjoy both reduced competition and increased exposure of their property. No matter when you decide to sell, it's always a good idea to stage your home beautifully so you can maximise its appeal – and in winter, that means dialling up the 'cosy factor'. Here are some of our top tips for making your home appealing to buyers during the winter season:
Let the light in
Buyers want to imagine themselves in their new home, so it's important to showcase each room at its full potential. One of the biggest make or break factors for viewers is light: remember the brighter the better. Counteract the darker days by keeping curtains and blinds open, and switching on all the lights before each viewing. For an extra cosy touch, think about adding accent light with warm white bulbs and strategically placed lamps. When it comes to outdoor lighting, it's important to make the entrance points easily accessible to your viewers. If you don't have outdoor lighting, it might be worth installing a cheap wall light for enhanced visibility. If you're looking for a more decorative touch, consider stringing festoon lighting in outdoor patio areas or even just to brighten up an old shed!
Warmth is welcoming
Your potential buyers are looking for somewhere to call home, so make it an inviting space they feel comfortable in. Always keep windows and doors closed to avoid draughts, and consider simple touches like making sure the heating is turned on before each viewing - it really can make all the difference! If you have a fire or stove, consider lighting it for that added homely feel.
Don't neglect your garden
The first impression always starts at the entrance of your garden. By making those initial steps into your home a positive experience, you'll set the tone for the viewing. Most gardens are a bit neglected in the winter months, so make yours stand out by keeping on top of maintenance. Small improvements like tidying up the outdoor space, removing fallen leaves and debris, stacking furniture neatly and cutting back dead or dying foliage will drastically improve the kerb appeal of your property.
Go for cosy, seasonal styling
If you're selling your home in winter, don't be afraid to embrace the seasonal style. Cosy up living spaces with blankets, throws and cushions and think about breaking up large expanses of hard flooring with a rug or two, especially in your entrance hall. One of the best ways to make people feel snug in your property is the homely smells that we often crave in winter – nothing beats the scent of bread or cookies baking, but if you're no Mary Berry then a scented candle or two will do the trick!
Get those odd jobs completed
Now is the time to tackle all those dreaded winter jobs you've been putting off: the blocked guttering, fallen fence, rickety back gate… the list goes on. When potential buyers enter your property, the smallest offputting details might have a lasting impact in their memory. That's why it's essential to make your property look its best and appeal to your viewers. Simple things like a fresh lick of paint go a long way. By taking the time to make those small improvements, you'll reap the rewards of more offers at competitive prices.
Sell your home with Property People
Selling your property is a big decision, so talk it through with our local experts who know the property market in your area. As Propertymark accredited estate and letting agents, the Property People team have the training, knowledge and experience to successfully bring your property to the market and assist you through every step of the buying, selling, renting or letting process.
Putting your house on the market doesn't have to be stressful. Get in touch with our team to see just how simple we can make it for you, or request your free no-obligation valuation today.