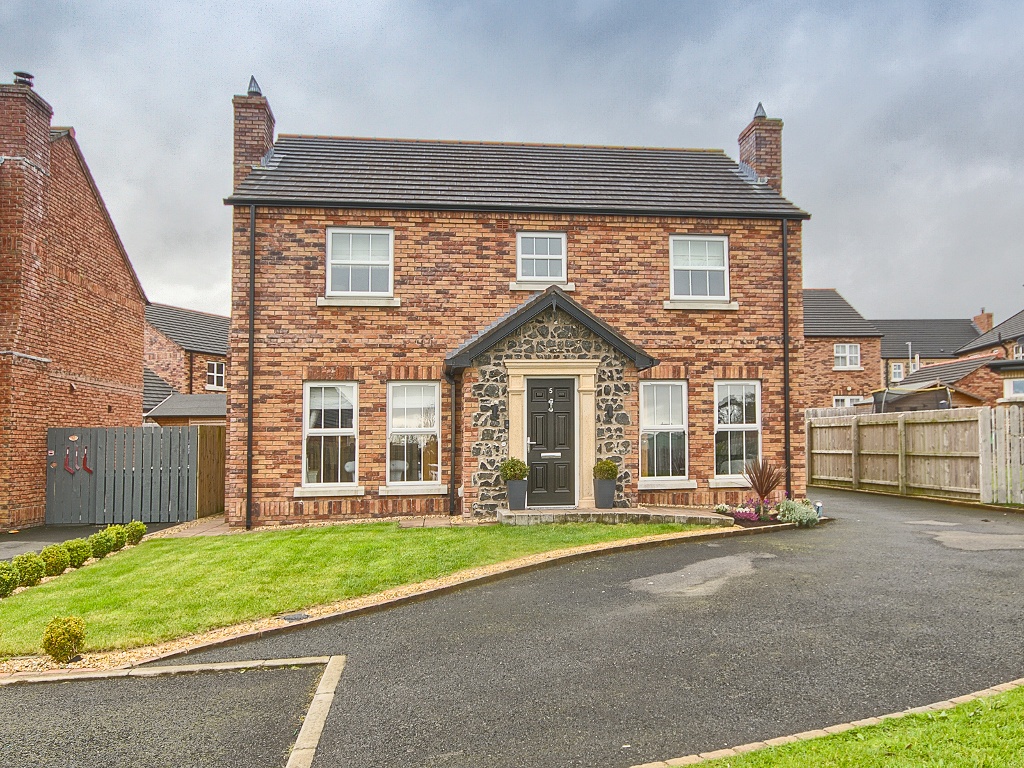 If there's one thing you need to be aware of when selling your home, it's that house hunters really do judge a book by its cover. With the first impressions of properties being made from online portals, social media, and then viewings, it's really important to grab the attention of your potential buyers at the earliest opportunity. Because let's be honest, nobody wants to forward a listing of a run-down, unattractive home to their family and friends.
According to a survey conducted by Barclays Mortgages, house sellers will typically be offered up to £57,000 less than they want for their property if it lacks kerb appeal. That means in order to get the right price for your property, it's crucial that you put in a little effort before your house goes on the market. We've put together our top 5 simple ways to increase your home's kerb appeal and make your property an attractive choice for prospective buyers…
Freshen up your front door
The entrance to your home should be inviting, so make sure your front door makes a good impression. It doesn't take a lot of work, start by cleaning any glass and shine up your door handles and letterbox. If you've got a loose doorbell or a dodgy hinge, take a few minutes to get it sorted ahead of any viewings and you'll really see the benefits. If you want to stand out from the crowd, give your front door a fresh lick of paint in a classic colour like navy, sage green or warm woody tones for a touch of class. For PVC doors, a good clean will do the trick and have it coming up as good as new!
Get the jet wash out
One of the simplest ways to enhance the appearance of your property is to give your patio and driveways a thorough cleaning. If you don't have a jet wash, you can hire them for next to nothing and it won't take more than a couple of hours to get your brickwork gleaming. Get rid of any moss, dirt and weeds from driveways or backyards and you'll create a tidy space that will please potential buyers.
Pot some plants
The easiest way to get your home looking fresh and inviting is to inject some colour. Everybody notices the houses with the nice gardens and bright flowers, so get down the garden centre and grab some cheap bedding plants and a bag of compost and you'll be well on your way to a lovely garden. Mow your lawns and if you've got borders, keep them tidy and try planting some easy to grow flowers like tulips and lavender that don't require any further attention. Don't worry if you haven't got a big garden: a few potted plants around the place will do the trick.
Keep the bins tidy
If you want to attract serious buyers, it's important to make your home feel like somewhere they can get excited about living. We all feel the same about our bins: they're smelly, unsightly and not something you want to go near if you don't have to. But house viewings mean people look everywhere: so don't leave a bad smell under your viewers noses and get your bins sorted well in advance. Give your wheelie bins a good hose down, both inside and out. If they're broken or damaged, call the council and ask for replacement bins. It's these small improvements that will put your well on your way to getting the price you deserve for your property.
Sweep outside your home
Once the outside of your property is cleaned up and ready for viewings, you should start to think about the area around your property. We know it's the council's responsibility, but if you live on a busy street or main road, you might experience litter and other kinds of mess outside of your house. We recommend sweeping the outside of your house with a brush, picking up any litter and making the entrance to your property clean and tidy so prospective buyers aren't put off before they enter.
Sell your home with Property People
Selling your property is a big decision, so talk it through with our local experts who know the property market in your area. As Propertymark accredited estate and letting agents, the Property People team have the training, knowledge and experience to successfully bring your property to the market and assist you through every step of the buying, selling, renting or letting process.
Putting your house on the market doesn't have to be stressful. Get in touch with our team to see just how simple we can make it for you, or request your free no-obligation valuation today.