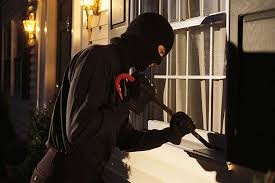 With just over 8 weeks until the big fat red man sneaks into your homes …
Don't let him be the only intruder in your house this festive season.
Below are some helpful hints and tips to prevent this happening to you.
Burglars want an easy entry, they try to nudge or push your windows and doors first
If your front door or any other doors or windows are not not secure hire a professional Joiner to come in and secure all your locks as it could just take the slightest knock to open your door/windows and for the sake of a few ££ you will have peace of mind that you are not making it easy for them.
Burglars look for occupancy cues like outdoor lights burning 24 hours a day, piled up newspapers, or advertising flyers hanging on the door knob
Set automatic lighting on timer switches or have a neighbour or a trusted friend or family member nip in and close your blinds for you if you are away for any length of time. Clean your garden of rubbish and make sure all post is emptied from your letterbox
Burglars prefer to enter through unlocked doors or windows.
Make sure all windows, doors are securely locked even if you are just nipping to the local shop at 2 in the afternoon opportunists don't care about the time they only have one thing in mind YOUR VALUABLES and nothing will stop them getting them.
Don't make it to easy for them by displaying all your Valuables. You might as well leave it all in the garden for them.
Don't advertise your Christmas tree and gifts in your front window so it's easily for burglars to make their own inventory lists beforehand. It's too tempting for them to smash the window and grab all your items. Would you carry all your money in a clear plastic bag walking round the citycentre?
Living in your home is meant to be a happy time but unfortunately for us, home burglars view your home a little differently. For them, it is a time of opportunity to burgle your home for cash, credit cards, and all the electronics, computers, jewelry, and easily sold valuables including packing all items into your car.
Please remember all the above points also apply to your car after all that is also one of your valuables that you cannot take into your house securely every night. So Wheel locks, Chains and immobilizers are a great deterrent