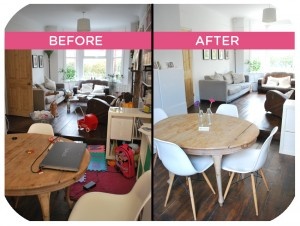 You may think you have the right-sized home in a good location, but that does not mean you have the upper hand in selling your house especially if the property is cluttered, has a messy garden and there is unfinished DIY jobs.
Here are 5 useful tips!!
1) Internal Presentation: Nothing will turn off a purchaser faster than dirty floors, messy kitchen work tops, dirty bathrooms and an overall unattractive home.
2) Smells: Don't sell a stinky house, purchasers are looking for an airy environment. Do not smoke or cook smelly foods e.g. fish prior to a viewing. Open windows ventilate and purchase scented candles.
3) Clutter: De-Clutter!! You may think the house is tidy and clutter free, but fresh eyes will see mess and clutter. De-Clutter your house from top to bottom and show what space/size of a property you have.
4) Garden - You don't have to go blowing lots of money on a garden DIY spree - the most important thing is just do a bit of tidying up to make sure it doesn't look messy. If your house has a front garden then it's even more important to ensure that it's attractive and tidy - if people can't see beyond the garden to see your house, why on earth would they want to view it?
5) Painting – Consider the natural palette, when a purchaser enters your house, they can see that it is a blank canvas for them to make their own. Avoid patterned wall paper and dark colours as this can make the house look smaller.
Hopefully the above tips will help in your sale process.