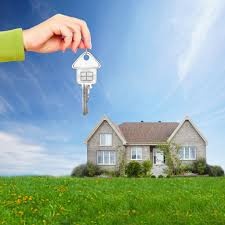 Spring has once again sprung folks and there is indeed "some stretch in evening these days". The winter months now firmly behind us, spring sunshine making us brighter, the air is fresh and it is also traditionally the best time of the year to sell your home. But before you welcome the first eager viewers into your home ensure you have prepped to bag the best price available.
Have an outstanding out side area.
The winter can leave gardens and patios looking haggard and untidy. A scrub down of the patio and a freshen up of the external paintwork of your property can ensure that viewers have the right first impression when walking into your home. It's also a good idea to have a few plant pots with some spring bulbs to add a bit of colour to the entrance
Problem areas.
We all have an area of the house that doesn't look its best, a room that everything gets chucked into or a minor repair issue that has been put off. Don't let these areas be a point of concern or negotiation for a potential buyer. Do not let a viewer cross the door until any issues have been put right.
Spring every thing that can be seen.
Look at your house through the eye of a viewer. If your property is sparkling throughout it will be more attractive to the buyer. Ensure your agent keeps you in the loop when viewers are coming and give the property a quick scrub. It's may be impractical for those of us with a busy lifestyle to keep the property magazine clean every day so ask you agent to only book viewings in a few days in the week where possible. This way you can keep the disruption to a minimum and presentation to a maximum.
Cut out the clutter.
Before the viewing public came into your property it is essential to tidy away and box up your possessions. Ensure that you put away all toys, trophies, gadgets and gizmos leaving the surfaces clear. You want to show as much of the space as possible.
Kitchens and bathrooms sell houses.
Viewers will pay particular attention to kitchens and bathrooms, as other rooms in the property are relatively inexpensive to re decorate if required. A real turn off for viewers is dirty, grimy shower/ bath enclosures and splash backs. A quick re-grout and re- silicone can make a world of difference. Have all taps and chrome ware sparkling and a pleasant fresh scent throughout. Ensure clean, matching fluffy towels are placed in the bathrooms and give the viewers a positive impression take away from the viewing.
Pets
Where possible remove your much-loved animal from the property at the time of the viewing. As much as you may love your cat or dog other may not and the presence of an animal in the property can put some buyers off. Also animal foodstuffs, litter trays and other items can create odour and clutter that is best kept to a minimum for the sake of the viewings.
Make you Agent your expert!
Most importantly tell your Estate Agent everything you can think of about your home. They will be guiding the viewers around the property and answering all questions so it is of upmost importance that they know about anything that makes your property stand out.
Spring is the best time to sell your home so why not hop on down to Property People at 7 Atlantic Avenue this Easter for a free valuation or contact me colin@propertypeoplebelfast.com.